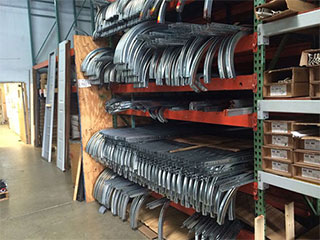 Of all the things around your home that you could spend a bit of money to improve, your garage door has to be one of the few that guarantees to give you the fastest return on your investment. Imagine a beautiful, silent door that has the ability to operate smoothly, as well as save you money when it's not even being used.
Carriage House Style Decor

It's fashionable, it's classical and to be very honest it can actually be achieved on a rather tight budget, that is if you're happy cutting a few corners. Generally, the carriage house theme incorporates windows, steel handles, giant black hinges and an elegant white paint finish, but you can pick and choose whichever addition works best for you, and then go from there.

Nylon Coated Rollers

These types of rollers are known for their quiet operation, and they can be an excellent choice for a homeowner who values greatly silence. They also don't need to be lubricated the way steel rollers do, and won't develop rust, which makes them perfect for areas where moisture levels are high.

Insulation Lowers Energy Costs

The least efficient part of your garage in terms of energy preservation is the huge door that allows a lot of hot or cold air to escape each time it opens and closes. By making sure your door is properly suited with weather strippings and is insulated correctly, you'll be able to avoid a lot of needless energy spending, as less air will be able to escape while your door is closed.

Rolling Code Technology

Many Genie garage door openers nowadays offer a terrific security feature called the Genie intellicode. This feature utilizes rolling code technology in order to prevent would-be burglars from exploiting your opener in order to gain access to your home. Rolling code technology means that after each time your opener and its remote communicate with each other in order to open or close your automatic door, their communication codes will change randomly. That means no one will be able to "hijack" your codes and use them to order your opener to open.
If you'd like some more expert advice, or to have a new Genie garage door opener installed, then our experts at Garage Door Repair Houston are here for you. Call us today.