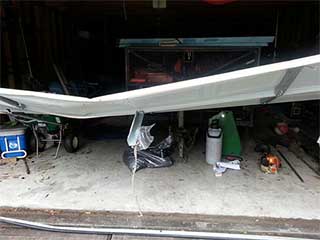 The urgency with which a problem needs to be dealt with depends on how threatening it is to the personal safety of you and your family members. When springs are about to break, they must be replaced as quickly as possible or they might hurt someone if they snap. In such a scenario, professional garage door emergency repair services are required.
Time Is Of The Essence
Urgent services are also necessary when the security of your home is compromised due to - for example - an overhead door that refuses to close all the way. Since you can't just let your door hang open like that all night, nor would you want to, you need a professional technician to arrive as soon as possible to solve the issue. Our team can provide you with exactly that. We know time is the most valuable commodity we all have, and we're not going to waste yours by lingering or taking too long to get to your home.
Safety Should Not Be Compromised
While speed is incredibly important when dealing with an urgent problem, there is one priority higher, and that is safety. Automatic garage doors can be extremely dangerous to repair. There are simply too many mechanical and electrical components involved in their operation for that not to be so. What's more, their springs and cables are under tremendous amounts of tension on a regular basis, so extra care is required when dealing with one of these components. Our technicians never sacrifice safety in favor of speed, and you can rest assured that any work we perform is of the highest quality.
Don't Try Anything By Yourself
No matter how simple you think a problem may be, you should never try to repair it by yourself. Expert skill is required, not to mention the right tools and professional training. Our experts at Garage Door Repair Houston will make to your home as fast as they can, and will perform any necessary task quickly and safely. Call us today.