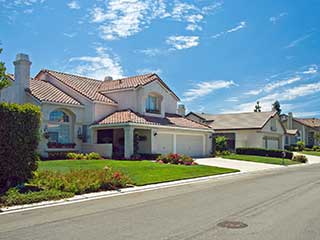 Even if you already own a garage door, at some point you'll need a new one. Why? Because nothing lasts forever. Although with regular maintenance your garage doors can last a long time, often people choose to get new ones installed ahead of time. Brands like Amarr and Clopay make garage doors that can enhance your home security and serve as a major curb appeal upgrade. There's a lot to know about garage doors, but let's go over some of the basics.
Garage Door Installation
Every garage is a little bit different. Before finding the best garage doors, some things need to happen. The team from Garage Door Repair Houston needs to measure your garage opening and talk discuss the options that suit your budget and needs. After that, we can find the perfect door for your garage. Then the installation work starts. After leveling and attaching the tracks for the door, as well as the garage door opener bracket for the appropriate type, the heavy lifting starts. Our Houston team will put your chosen door together, raise it up to put it into the new tracks, and then set up the lift cables, opener, and spring assembly. Finally, the safety sensors and control systems need installation, programming, and testing.
Which Garage Door Material Is Best?
Traditional garage doors come in wood, steel, and aluminum. In more recent times, synthetic materials and polymers have also joined the fray. There's no single best garage door design or material for all users. Everyone has different needs and priorities. For instance, wooden garage doors are among the strongest against impacts. Most would call them the most attractive looking. However, a less sturdy aluminum garage door of the same size will be cheaper. It'll also be lighter (less powerful opener needed), and much more resistant to water damage. It all depends on where you live, how much you're willing to spend, and, most important, what you expect to threaten your garage. For a free estimate, contact Garage Door Repair Houston and meet with a local expert.
Why Are Garage Doors Important?
You might think you don't really need to invest in your garage door. Well, maybe, but first consider all the factors. The garage door protects your belongings. Not only from potential burglars but from the elements as well. These panels need to prevent debris, strong wind, rain, and all sorts of other potentially damaging factors. Apart from that, garage doors also add to the curb appeal of the house. That means that they can also increase its retail value. That's a good thing to keep in mind if you're planning on selling your Houston house at some point down the line.
Garage Door Opener Installation
Different garage doors need certain types of springs, lift cables and housing. You have much more freedom in picking your opener; the electrical machine that moves the door and receives commands from your remote control or other control systems. Your opener will need enough power to open a garage door as heavy as yours, and it should have much more if possible. An opener that can just barely lift your garage door will break down in just a couple of years, while a stronger one can last over a decade. Our team provides all types of garage door openers with remote, wall-mounted, and Wi-Fi-based or Homelink controls, as well as safety sensors.
Garage Door Opener Types
There are four basic types of garage door opener. What are these devices? That's the part of the automatic garage door that controls the system's movement. Belt drive openers are powerful and very quiet, but also expensive and high maintenance. Chain drive openers are inexpensive but very noisy and better used for detached garages or by people who don't mind the din. Screw drive openers are also noisy, and more expensive than chain drive models, but very reliable and require little maintenance. Finally, the more modern wall-mounted opener saves a lot of space in your garage and is quiet, but most models are expensive, and not all doors are compatible with them.
The Best Garage Doors For Your Home
Call Garage Door Repair Houston and get a free quote on cheap garage doors, installation services, and repair or maintenance appointments. Our team is available seven days a week, so get in touch with us whenever you want more info or need help.