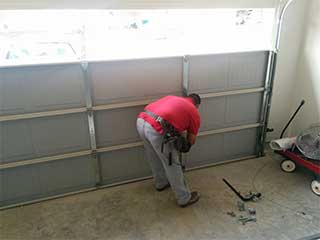 Automatic garage doors can suffer from a wide variety of issues. Broken cables and springs and malfunctioning openers are only some of the many scenarios the Garage Door Repair Houston team can solve. Replacing damaged panels and worn out rollers are also service avenues you can approach. If you're dealing with a garage door opener that is not working, leave it to us. Dealing with broken springs and openers that aren't responding requires some skill and experience. Do the right thing and call the nearest experts.
Garage Door Not Moving Right
There are all sorts of cases in which the overhead door starts exhibiting strange behavior. The garage door not opening or refusing to close are examples for such malfunctions. If you find yourself unable to open or close the door, you'll likely need some help. You can check the garage door opener troubleshooting tips in your owner's manual. However, if those fail, or if the problem with the opener seems more complicated, leave it to the pros. Garage Door Repair Houston offers a range of solutions to all sorts of issues. This includes track, roller, and opener problems.
Cable and Spring Replacement
Springs and cables are incredibly important, as they are in charge of both supporting the weight of your door panels and helping them move along the tracks smoothly. If one of these components break, the panels could collapse, and any nearby person could suffer from a serious injury. Broken garage door spring repairs are the type of task you better leave to the pros. The dangers involved make taking risks with DIY repairs not worth it. Leave this stuff to the experts at Garage Door Repair Houston. Your extension or torsion springs will get swapped out quickly. Your garage door will return to it's proper function in no time.
Garage Door Got Off Track
If your tracks are bent or dented, or if they are blocked by an accumulation of dirt or debris, the door could end up getting off the track, and will potentially collapse. Needless to say, this is extremely dangerous, and you should contact our experts right away. We'll realign the tracks and repair them as necessary, or we'll replace them all together if the damage they've sustained is too severe. You can rest assured that we'll get your door working safely again in no time.
Garage Door Opener Repairs
If your garage door opener is making strange noises, or if it refuses to operate your door for some inexplicable reason, our technicians can help. We'll troubleshoot the opener to discover what the underlying issue is, and then we'll set to work right away. Whether its a worn out motor gear or something to do with the circuit board, our experts can take care of any opener related problem you may experience.
Wide Service Area
Whether you're a resident of Houston or you live somewhere else nearby. Exceptional garage door repair services are available to you at rock bottom prices. The service area Garage Door Repair Houston covers is far and wide, and working together with other qualified and professional service companies allows us to always have someone to send. If you're looking for garage door pros near Humble you'll find a service team waiting and ready to help any day of the week.
Local Garage Door Experts Near You
Why try and handle automatic garage door problems by yourself? These systems are comprised of many moving parts, and can be downright dangerous. You should leave the garage door repairs you need to experienced technicians. But who can come and help you 7-days a week with a same day response guaranteed? Why, Garage Door Repair Houston of course. Call us whenever you need professional assistance.
More Information You Can Use
Why is it my garage door opens a little then stops?
This problem could be caused by a jam, a broken spring, or an opener settings issue. If the door is making strange noises while it comes to a stop, then something is probably jammed. If you hear rattling, or if the door lists to one side, then it's probably a broken spring or lift cable. If the door is operating as normal except for the early stopping, then recalibrating your opener should solve the problem.
What does the garage door close part way then opens again?
This is most often caused by a problem with your safety sensors. Check to see if the sensor LED lights are on as normal; if they're off or blinking, then you've found the problem. Solving it will mean cleaning, repairing, or realigning the sensors. If the sensors aren't the problem, then the issue could be stuck remote control buttons or wires, or a bug in the opener. Try removing the batteries from your remote control or disconnecting the wall console to see if one of them is at fault.
What garage door is best?
The "best" garage door is the one that fits your personal living situation and preferences. Different materials offer protection of different kinds. If your door is going to exposed to moisture from leaks, weather, or condensation, you should think about water-resistant materials. If security is the most important thing for you, then steel and wood are the obvious choices. Remember that a heavy door needs a stronger opener. Aesthetics are also important if you want your house to look good.
We Also Offer:
Garage Door Tune Up Services
Torsion Spring Repair Services
New Garage Door Clickers & Remotes
Genie & Liftmaster Garage Door Openers