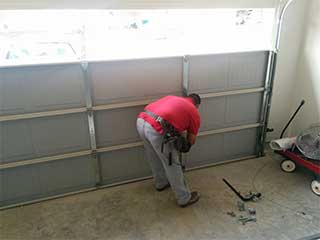 Automatic garage doors can suffer from a wide variety of issues. Broken cables and springs and malfunctioning openers are only some of the many scenarios we can solve for you. We also replace damaged panels and worn out rollers, and can make sure your opener's drive system is working correctly. When you find yourself experiencing a problem, there's no one better to call than our professional team.
Cable and Spring Replacement
Springs and cables are incredibly important, as they are in charge of both supporting the weight of your door panels and helping them move along the tracks smoothly. If one of these components break, the panels could collapse, and any nearby person could suffer from a serious injury.
Door Got Off Track
If your tracks are bent or dented, or if they are blocked by an accumulation of dirt or debris, the door could end up getting off the track, and will potentially collapse. Needless to say, this is extremely dangerous, and you should contact our experts right away. We'll realign the tracks and repair them as necessary, or we'll replace them all together if the damage they've sustained is too severe. You can rest assured that we'll get your door working safely again in no time.
Opener Related Issues
If your garage door opener is making strange noises, or if it refuses to operate your door for some inexplicable reason, our technicians can help. We'll troubleshoot the opener to discover what the underlying issue is, and then we'll set to work right away. Whether its a worn out motor gear or something to do with the circuit board, our experts can take care of any opener related problem you may experience.
Always Call an Expert
You should never attempt to handle automatic garage door problems by yourself. These systems are comprised of many moving parts, and can be downright dangerous, and should only be repaired by experienced technicians. Call our experts at Garage Door Repair Houston when you need professional assistance.
We Also Offer:
Garage Door Tune Up Services
Torsion Spring Repair Services
New Garage Door Clickers & Remotes
Genie & Liftmaster Garage Door Openers