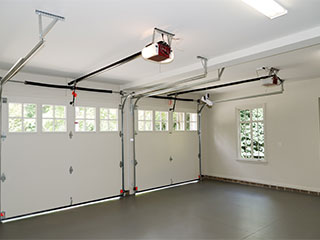 A garage door opener can make your daily routine incredibly convenient. You'll be able to open or close your garage door with the push of a button, or, depending on the model, with a smartphone app. However, if your opener unit is malfunctioning, dealing with the problem can become a real hassle. Not to mention, it can also be dangerous. Luckily, the team here at Garage Door Repair Houston specializes in fixing and installing openers.
Common Opener Problems
If you find that the garage door opener is not working all of a sudden, there's more than one potential cause. You could be dealing with misaligned sensors, drive system malfunctions, fried circuitry, and various other problems. Finding out what's wrong takes some skill. LiftMaster opener troubleshooting tips are often found in the owner's manual. The same goes for other brands. However, not all the answers are there and sometimes the problem demands a fix that requires replacing opener parts. When it comes to more complex issues, you're better off letting pros handle things. Garage door opener repair is a task you ought to leave to experts. This is to avoid accidents and to save money on more expensive repairs later on, which are often the result of DIY attempts.
Complete Opener Repairs
Our technicians have become experts at dealing with garage door opener related issues. The Garage Door Repair Houstom team specializes in fixing all opener brands. If your garage door opener is making strange sounds and refuses to run, let us know. If the opener seems to have gone "dead" mid operation and left your door stuck halfway, we can help with that too. Whether it's a motor or a circuit board problem, the opener specialists will find a solution. The garage door opener troubleshooting services we provide will have your automatic door back to work in no time.
Three Main Garage Door Opener Types
There are three common garage door opener drive systems that are used today.
Belt-drive openers allow for smooth and silent operation. The use of a reinforced-rubber belt makes for ultra-quiet movement. Belt drive openers are oftentimes the more expensive option, though. So take that into consideration.
Chain-drive openers are very affordable, and very strong. The strong chain they use does tend to make more noise, however. They also require more frequent maintenance. The chain may need some adjustments and lubrication every so often.
Screw drive openers use a threaded rod to push and pull the door. That means fewer moving parts, which means less maintenance. However, noise isn't completely eliminated, and price isn't as cheap as some other chain drive models. Screw drive openers are by far the fastest option, though.
The Right Opener For You
Finding the perfect opener for your home is no easy task. Apart from deciding between the preferable type, there are some special safety and security features various models have to offer that you may also want to consider. Rolling code technology, for example, will ensure that no one can "hijack" your opener's access codes in order to gain entrance to your home. Wi-Fi compatibility will allow you to operate your opener using a remote device, even a smartphone.
Professional Opener Experts Nearby
Garage door openers can present some complex issues. Even installing them is something best left to the pros. Well, the experts at Garage Door Repair Houston are here to help you. Whether you're looking to get a new opener installed or need emergency repairs. Give us a call and get a same day response any day of the week.
In addition, count on us for:
Part Replacement & Repair
Belt Drive Opener Installation
Oil Tempered Torsion Springs