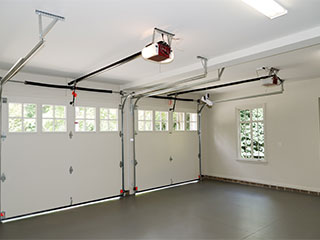 A garage door opener can make your daily routine incredibly convenient. You'll be able to open or close your garage door with the push of a button, or, depending on the model, with a smartphone app. However, if your opener unit is malfunctioning, dealing with the problem can become a real hassle. Not to mention, it can also be dangerous.
Complete Opener Repair
Our technicians have become experts at dealing with garage door opener related issues, and we routinely make sure that our team members undergo qualification tests to ensure their skills stay sharp. If your garage door opener is making strange whirring sounds and refuses to operate, or if it seems to have gone "dead" mid operation and left your door stuck halfway, give us a call right away. We can repair any motor or circuit board related problem, and our service man and women always have all the necessary parts, such as motor gears and circuitry, with them to make any necessary replacements on the spot.
The Main Types
There are three common garage door opener drive systems that are used today. The belt-drive units allow for smooth and silent operation, albeit they are oftentimes the more expensive option. The chain-drive models are very affordable, but they do require more frequent maintenance, and can be very loud while they operate. Last, but not least, there's the screw-drive openers, who require very minimal maintenance, and are incredibly strong.
Choosing The Right One
Finding the perfect opener for your home is no easy task. Apart from deciding between the preferable type, there are some special safety and security features various models have to offer that you may also want to consider. Rolling code technology, for example, will ensure that no one can "hijack" your opener's access codes in order to gain entrance to your home. Wi-Fi compatibility will allow you to operate your opener using a remote device, even a smartphone.
Seek Professional Advice
Not to worry, there's no need for you to make an uninformed choice. Our experts at Garage Door Repair Houston are here to help you take every factor into consideration. Call us today.
In addition, count on us for:
Part Replacement & Repair
Belt Drive Opener Installation
Oil Tempered Torsion Springs